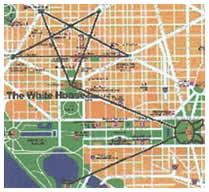 The picture to the right shows how the streets were created to form an inverted pentagram, the sign of using Divine Energy in its reverse aspect ie; for personal power.
Also the creation of the figure of an owl. Another symbol connoting 'dark' energy.
Note the layout below also depicts an owl.